Due to demand The Builder Training Centre has introduced

multi-skills training course packages

that include discounts. To qualify for a discount, 4 or more courses must be booked, and a deposit paid for each course, at one time.  Some examples are listed below.
TRIAL OFFER: For a trial period only we have introduced a 'friends and family' multi-course scheme. This will entitle friends and family members to book a minimum of 4 courses between them, as part of a multi-course package. Normal terms and conditions apply.
Sample 1 :
Bricklaying, Plastering, Plumbing and Tiling
Total cost £1,375.00 inc VAT
Deposit of £600.00 required giving you a saving of £125.00
Sample 2:
Domestic Installers (including C&G 2393 Building Regulations), C&G 17th Edition (2382-15), C&G Inspection & Testing (2392-10) and C&G Inspection & Testing (2394-10)
Total cost £2,055.00 inc VAT
Deposit of £800.00 required giving you a saving of £65.00
Add a 4 day electrical foundation course to sample package 2 and pay only £370, adding an extra saving of £25.00
Sample 3:
Carpentry, Kitchen Fitting, Plumbing and 4 day Electrical Foundation
Total cost £1,425.00 inc VAT
Deposit of £600.00 required giving you a saving of £95.00
Sample 4:
2 day Electrical Foundation, Tiling, Carpentry and Plastering
Total cost £1,260.00 inc VAT
Deposit of £600.00 required giving you a saving of £115.00
Sample 5:
Plastering, Skimming, Tiling and Advanced Tiling
Total cost £1,450.00 inc VAT
Deposit of £600.00 required giving you a saving of £125.00
Sample 6:
Bricklaying, Carpentry, Roof Tiling and Roof Construction
Total cost £1,595.00 inc VAT
Deposit of £600.00 required giving you a saving of £80.00
We can customise all multi-course packages to suit your individual needs.  Just call the office and let us know which 4 or more courses you are interested in attending and we will let you know the discount that would apply there and then.  The majority of courses are held both during the week and over weekends, so you could take advantage and attend all your courses over consecutive dates during the week, weekends, evenings or a mixture of all 3!  For those students that haven't attended our centre before and wish to 'try us out' first, providing you come and see us before the end of your first course, we will still include your first course as part of the package providing you book a minimum of 3 more courses with us.  Furthermore, if you need to, you can leave a couple of the dates to be confirmed, providing all courses are attended within 12 months of booking.
For our full terms and conditions click here
Below are just some of the comments we have received from students attending multi-courses at the BTC.
Michael Hegarty, (Berkshire) - Pictured above
(plastering, advanced plastering, electrical, Part P, carpentry, plumbing, roof construction, roof tiling, kitchen fitting, bricklaying and tiling)
I found the courses very helpful and enjoyable.  They take all the mystery out of the way things are done.  Also if you don't quite understand, the tutors  are very approachable and friendly.
Tom Kelly, (Middlesex)
(electrical, Part P, 17th Edition, PAT Testing, carpentry, roof construction, plumbing and tiling)
Just like to say a huge thanx to all the instructors and even bigger to my DARLING Elaine for supplying me with my coffee and giggles every day.  It's been a pleasure every week and worth every penny (which I have made back already).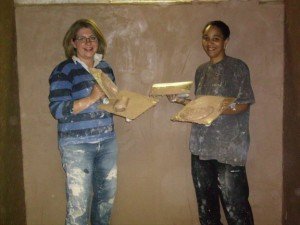 Jo Chapman, (London) – left on picture
(tiling, plumbing, plastering and electrical)
Dear Richard and Team,
I've just completed my fourth course at the centre (Foundation Electrical, Plastering, Plumbing and Tiling) and I just wanted to drop you all a note to say a thank you and to tell you how impressed I've been with the facilities and teaching at the BTC.
From someone who had zero experience in any of these skills, I now feel confidant
enough to completely rip out my bathroom and re-fit it, along with the many other jobs that need doing!
So a big thank you to all the team at the BTC for being incredibly friendly, knowledgeable and for answering all of my stupid questions, particularly Dave (tiling) and Paul (plastering) who were both fantastic teachers and made the hard work and manual labour enjoyable with good humour and passion for their work.
I'll send you some pictures to let you see how I get on, and I'll see you in the New Year when I tackle my kitchen!
Cheers
David Farmer, (Middlesex)
(plastering, plumbing, tiling, bricklaying, kitchen fitting, carpentry, electrical, Part P)
The centre offers a very friendly & welcoming environment. Good advice is always on offer above and beyond course content which always helps with personal projects.
I would happily recommend friends and family to enrol in any of the courses provided by the BTC.
We are a totally independant company trading as Builder Training Centres Ltd
All our training courses are held at our construction and DIY training centre in Surrey, Greater London