The City & Guilds Combined Level 3 Award in Inspection and Testing 2391-52 Course at The Builder Training Centre is designed for anyone who is required to conduct both Initial and Periodic Inspection and Testing of electrical Installations. You will need to have previous experience and fundamental knowledge of inspecting and testing of single and ideally 3 phase electrical installations. You will need to have obtained previous electrical qualifications, able to work with minimal supervision, work safely, able to identify faults and ensure all your work meets the required standards. This course will enable you to update your knowledge of techniques and legislation and gain the relevant qualification to reflect your abilities.
The combined 2391-52 qualification has been introduced to replace the City & Guilds 2394 and 2395 qualifications. This qualification is the equivalent of the combined EAL 2625 qualifications. Please click
h
ere
 to view a comparison table to assist you in deciding which qualification/s course to attend. 
Ideally students will have the City & Guilds 2392-10 qualification prior to attending this course.
'Very helpful and enjoyed the course.'
For further testimonials on our C&G 2391 Inspection and Testing Courses click here
For the next available training course dates click here
For recommended Advanced Inspection and Testing Practical course for those requiring additional practical training in preparation for the 2391 practical assessment click here
For recommended Pre Practical Assessment Course for those looking for an overview of the requirements for the 2391 practical assessment click here
The Builder Training Centre (The BTC) offers a high quality structured Combined 2391-52 Course. This can be attended as a 5 day (Monday to Friday) weekday course or over 2 consecutive weekends (1 being an extended weekend). Our instructors are qualified, highly experienced, knowledgeable and enthusiastic Tradespersons, so students can take full advantage of all the tips of the trade, personal experiences and practical advice they offer. This short course is intensive, but no compromise is made on the course content. The atmosphere is relaxed and enjoyable which creates a good learning environment.
This City & Guilds Combined 2391 electrical course is ideal for people with fundamental experience of initial inspection, testing and verification and/or periodic inspection and testing of electrical installations. If you already work as an Electrician, but have limited exposure of inspection and testing since qualifying, or you require to update before moving onto other qualifications, then this may be the course for you.
City & Guilds Combined 2391-52 Course Content:
Designed to enable students to understand principles, practices and legislation for initial verification and periodic inspection of electrical installations with statutory and non-statutory regulations and requirements.  The student will gain the knowledge needed to underpin the application of skills for the inspection, testing, commissioning and certification of electrical installations.
Content:
Understanding the difference between Initial and Periodic Inspections and tests
Completing the safe isolation of electrical circuits and installations
Initial verification of electrical installations
Inspecting and testing existing installations
Completing the inspection of electrical installations prior to their being placed into service
Completing the periodic inspection of existing installations
Safe testing and commissioning of new electrical installations
Safe testing of existing electrical installations already in service
Testing before circuits are energised
Testing of existing circuits to ensure continued safety
Understanding test results and comparing with expected outcomes
Completion of electrical installation certificates and associated documentation
Completion of the Electrical Installation Condition Report and associated documentation
Confirm safety of systems and equipment prior to completion of inspection, testing and commissioning
Sample papers will be undertaken throughout the course
Course length: 5 days (Mon-Fri) or 2 consecutive weekends (1 being an extended weekend). Practical assessment will be arranged separately.
In order to claim the full 2391-52 qualification students must successfully complete the following 2 units:
On-line multiple choice (open book) test – 120 minutes (60 questions) (unit 2391-052). Results the same day.
One practical assessment (unit 2391-502) arranged separately – 3 hours, including completion of associated documentation, and 1 hour, 20 minutes for completion of Practical Written Assignment (4 question short answers – open book)
Price for Combined 2391-52
| Day | Price | Course Times |
| --- | --- | --- |
| Weekdays | £950 | 9.00am - 5pm |
| Extended weekends | £950 | 8.30am - 4.30pm |
Full payment or a deposit of £400 is required to book a City & Guilds 2391-52 Electrical Qualification Course.  Any remaining balance can then be paid at any time before the start of the course.
All prices include vat and registration fees.
Add C&G Combined 2391-52 to a multi course package:
Domestic Installers (inc C&G 2393 Building Regulations), C&G (2382-22) 18th Edition, C&G 2392, C&G Combined 2391-52
Total £2,375.00 (inc VAT). A saving of £60.00
For More Discounts and Special Offer Click Here
Essential Book List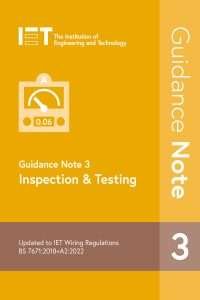 IET Inspection and Testing Guidance Note 3
ISBN 978-1-83953-236-8
The following two books are referred to frequently throughout this course and may also be taken into exams so you would benefit from having your own copy
IET Wiring Regulations, 18th Edition BS 7671:2018+A2:2022
ISBN 978-1-83953-218-4
IET On Site Guide BS 7671:2018+A2:2022
ISBN 978-1-83953-227-6
The above books can be purchased from The Builder Training Centre.
.
Pre-requisites
You must be at least 18 years of age.
A fundamental knowledge and understanding of electrical science and principles and experience of electrical installation work within the electrical contracting industry or an allied trade. Ideally students should have achieved the City & Guilds 2382 qualification and City & Guilds 2392-10 qualification, or equivalent.
Which qualifications do they replace?
City & Guilds combined 2394/2395 Inspection, Testing, Design & Certification of Electrical Installations
Testimonials
Please take time to view a selection of our testimonials from students that have attended the City & Guilds Combined 2391 Training Course by clicking here
We have facilities for men and women! You will find our prices are competitive, and include the use of tools and materials for your Combined 2391-52 Course whilst you are here, but for health and safety reasons you are required to have steel toe capped footwear to wear throughout the course. These can be purchased from our reception on your first morning for £20 if required. Students may bring in their own test instruments however, it is the responsibility of the student to ensure the accuracy of any instrument.
What opportunities are there on Completion?
These qualifications allow students to progress into employment or to the following City & Guilds qualifications:
Level 4 Award in the Design and Verification of Electrical Installations
For information on our other Electrical Courses please click on the relevant links below:
For Electrical – Which Course? click here
For Foundation Electrical Courses click here
For 2 day Foundation Inspection and Testing course click here
For Domestic Installers (inc C&G 2393 Building Regulations) course click here
For Building Regulations 2393-10 course click here
For 18th Edition 2382-22 course click here
For Inspection and Testing 2392-10 course click here
For Electrical Vehicle Charging 2919-01 course click here
For PAT Testing 2377-77 course click here
For C&G 2391-50 Initial Verification course click here
For Periodic Inspection & Testing  2391-51 course click here
For EAL Combined 2625 Inspection and Testing course click here
For 2 day Advanced Inspection and Testing Course click here
For 2391 or 2625 Practical Pre-Assessment Course click here
You are welcome to visit The Builder Training Centre at any time during opening hours (8.00 am until 5.30 pm) either during the week or at weekends to see our facilities first hand. No appointment is required and you will be made very welcome. Why not come and meet our electrical instructors and speak to our electrical students and see for yourself what you can achieve from each course?
We are confident that you will like what you see and will want to undertake electrical training and learn electrics with The Builder Training Centre.
Why not give Matt, Sally or Andy a call, who will be more than happy to assist, on 0208 649 9340
Or send an enquiry by clicking here
To apply for a course by sending an on-line application form click here
To view our colour brochure click here
We are a totally independent company trading as Builder Training Centres Ltd
All our electrical courses are held at our electrical training centre in Surrey, Greater London