Builder Training Centres Ltd (The  BTC)  has been assisting service leavers in making successful transitions from military to civilian life for over 10 years now.  We have met the MOD's criteria to permit us to run courses that qualify for ELC funding (at Level 3 and above), and as such we are listed on the ELC administration service (ELCAS) as an approved provider, and our provider number is 4107.  
We are able to offer training to those wishing to use their Standard Learning Credits (SLC), Enhanced Learning Credits (ELC) and Individual Resettlement Training Costs (IRTC). 
We endeavour to make the process for those wishing to attend our courses through resettlement as hassle free as possible.  We are able to offer competitive packages.  We are happy to send out sample packages on request to assist you in making your decision. 
For our current MOD Service Leavers Price List please  click here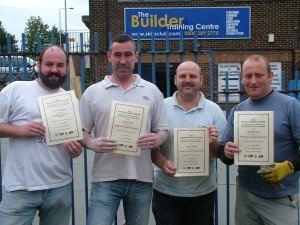 Remember that your Enhanced Learning Credits can only be used towards qualifications that will lead to a Level 3 or above. This means a selection of our Electrical Qualification courses.
You can use your IRTC's along with ELC's for the same training course or your IRTC's with your SLC's. You are not permitted to use your ELC's and SLC's for the same training.
Advice on how to go about getting approval for your resettlement training and links to relevant forms can be found on the websites,  www.ctp.org.uk and www.enhancedlearningcredits.com
Please contact Elaine or Sally, our dedicated resettlement team, direct on 020 8649 9340 for further information.
We are situated at Waddon Station in Surrey, just off the Purley Way on the A23, where there is a large range of Superstores which includes John Lewis, Next at Home, Curry's, Morrisons, PC World, Argos, TK Max, Hobbycraft, Mothercare, Sainsbury's, to name just a few.  Just 7-8 minutes drive away there is also the Valley Park Retail Complex which is home to many retail outlets including Ikea, and also offers multiple restaurants, cinema, gym and ten pin bowling.  Only a few minutes' walk from the Centre is Waddon Leisure Centre which includes a pool and gym.  We are ideally situated for those wishing to combine training with leisure, particularly for those using local accommodation, and those attending multiple courses on resettlement.
Below are just some of the comments made by students that have attended our courses on resettlement from the armed forces.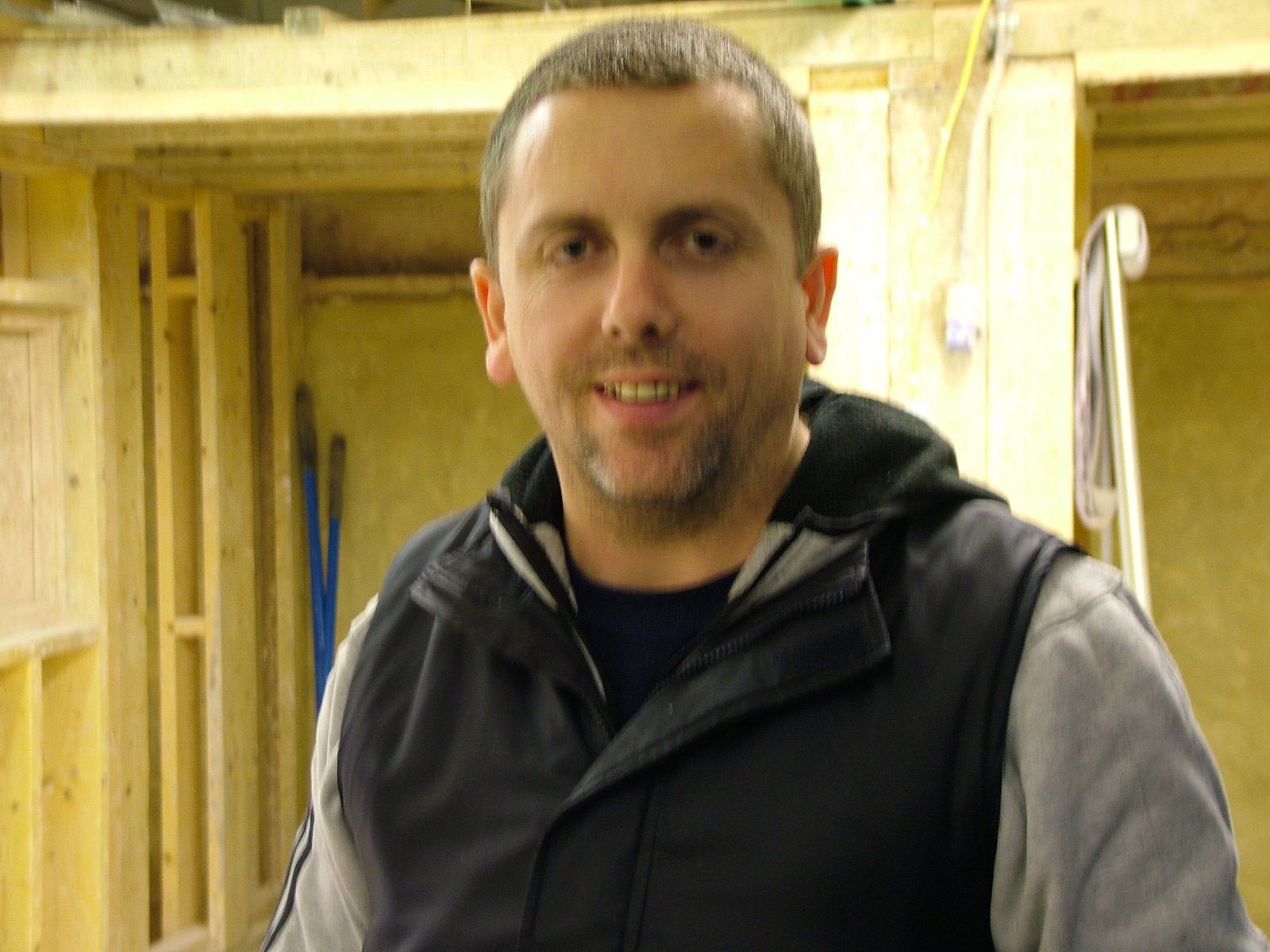 Vinny Howitt (Cyprus)
(plastering, advanced plastering, plumbing, tiling, advanced tiling, bricklaying, kitchen fitting, carpentry, electrical foundation)
'Well, what can I say!  I've been here for 37 days, done 9 courses in all!  Utterly brilliant!  Each & every staff member has been professional, thorough, helpful & so approachable.  Nothing is ever too much trouble.  I have learned so many new skills.  This package has far, far exceeded my expectations.  It has been astonishing, as I look back over every day spent here, & remember the sheer volume of course content covered.  Not just lip service, but thoroughly, & at exactly the right pace.  This efficiency has been mirrored by the outstanding hospitality provided by my local host family, Mr & Mrs Parks.  The sheer effort Liz puts in to ensure that we leave for work rested, fed & watered, made an immense difference to my ability to take in what I had been taught.  Everyone involved has been found to always go way beyond what is expected of them.  Every instructor has an obvious passion for their trade and so keen to pass on their skill-set to students, both young & old.  Their patience and work ethic is commendable, always seeking suggestions how to make the courses better.  Well, in 37 days, neither I nor any of the others on the last 9 courses have thought of any short comings or areas to improve.  Everything from the first contact with the centre, months ago, has been seamless.  Elaine is a master at co-ordinating courses/dates etc, as I have seen on many occasions.  The centre management team are a very friendly, welcoming and approachable bunch, the instructors' ongoing commitment to their students is very noticeable, not just for myself, but also others who have had queries, or just general advice.
I take my hat off to you all, the service you provide is without a doubt, first class.  Hopefully I can arrange further training in other areas in the near future, so I may see you all again very soon.  Thank you.'
David Bill, Lieutenant General
'I could not have been more satisfied with my time at the Builder Training Centre. I have completed a wide range of courses including bricklaying, plumbing, carpentry, tiling, plastering, kitchen fitting and electrical foundation.  I have seen most of the instructors in action and made use of much of the training facilities on offer. All the instructors were most impressive – engaged, dedicated, patient and hugely knowledgeable. Equally the facilities and the materials provided are first class. I would have absolutely no hesitation in recommending The BTC to those who, either wished significantly to improve their DIY skills and knowledge or for those embarking on the first steps to a change of career. Meanwhile the administration of the centre is first class – approachable, efficient and pro-active. I was equally delighted with the accommodation provided – a delightfully friendly family atmosphere – nothing was too much trouble.'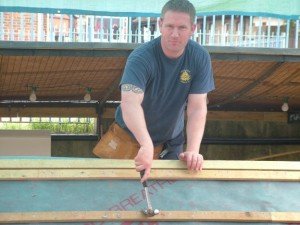 Mark Kelly, (Germany)
(roof tiling, roof construction, plastering, bricklaying, carpentry, plumbing)
I started the first day of six courses 28 days ago and I have thoroughly enjoyed every day since.  The theory & practical elements of all the courses in my view are of the right proportion with plenty of practical, which I believe is fundamentally the best way to learn.  As an instructor myself I would like to take this opportunity to thank the various instructors that taught on my courses, the professionalism & vast experience of each one is a credit to the centre and I take away with me a HUGE amount of information and practical knowledge that I have no doubt will assist me in my future projects. 
Last but definitely not least, the admin team especially Elaine without whom this would not have been possible; from the very first contact with the BTC she has been extremely helpful & co-ordinated my courses in a logical sequence allowing me to take all the courses I had asked for.  This was made harder as I needed to do this in a continuous period, from Germany and with inflexible dates.  Overall it has been at times hard work but with a very friendly atmosphere it is an experience that I will not forget.  I have already contacted my resettlement manager and I hope they will add the BTC to the list of preferred training suppliers.  Thank you and I wish you all the very best for the future.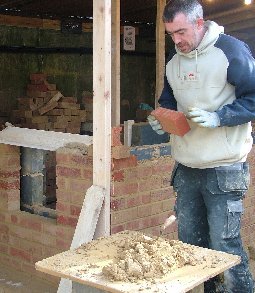 Chris Bain, (Northern Ireland)                                                                  (plastering, plumbing, tiling, bricklaying, kitchen fitting)
I have recently completed 5 courses at the BTC and from the first contact through to the very last day I found everyone to be utterly professional and extremely friendly. Prior to attending the courses I had virtually no experience within any of these trades, however due to the first class instruction I am extremely confident of tackling a variety of jobs that wait for me when I leave the forces. I found all the instructors to be highly proficient and they delivered their lessons at the right level to suit all the students. The administration staff were simply outstanding and made the booking and payment for the courses very easy. They tailored course dates to suit my availability which no other company I tried were willing to do. I throughly enjoyed my time at the BTC and am looking at returning to the centre in the future to conduct further courses. Thank you for your help and for making my stay so enjoyable.
Sgt Keith Earl, (Wiltshire)
(plumbing, bricklaying, tiling and plastering)
I found that the resettlement package that was offered by The Builder Training Centre was by far the best value of the 4 places I looked at.  The structure of the 4 courses I did was very good.  The training facilities were excellent.  The instructors' knowledge and experience was outstanding.  I found you could ask about any project that you are working on and would get good advice.
Keith is featured in an editorial found on our 'About Us' page.
Mark Harrison, (Somerset) – Pictured above
(plastering, advanced plastering, plumbing, electrical, Part P, 17th Edition, PAT Testing, I&T (2392)
The administration of all the courses I have attended has been excellent including the booking, payment and course information.
I have found all the foundation courses to be of great value with excellent instructors who passed on not only the correct methods and use of equipment but professional top tips and practical advice on real life issues that may be faced.
The electrical courses providing the relevant qualifications were delivered in a very
professional manner.  The instructional technique was relaxed and helped very much
in my ability to pass the exams accordingly. 
Finally my thanks to all the staff for all they have done ensuring my stay and training was both enjoyable and worthwhile.
Tim Lynn, (Hampshire / Australia)
(tiling, plastering, roof tiling, roof construction, bricklaying, carpentry and plumbing)
An overall enjoyable time spent with the staff and instructors. 
The courses are well structured and delivered by  professional, experienced and friendly people at a sensible rate.  The courses also give the individual confidence in their own ability whilst giving a good understanding to go onto other things, whether it be working in a trade or further training. 
Personally, I have enjoyed my time at the centre, have learnt a lot about the various trades and about my own abilities and limits. 
I wish the centre good luck for the future – no doubt our paths will cross again!!!
Tim is featured in an editorial found on our 'About Us' page.
Brian Higgins, (N. Ireland) – Pictured above
(bricklaying, tiling, plumbing, carpentry, plastering, kitchen fitting, roof construction, roof tiling, advanced tiling, advanced plastering)
From the very first contact with the BTC, I have been most impressed with the high standards they have set themselves.
The booking of the courses was quick and simple and there are savings to be made if you ask for a package deal; I've taken advantage of this with my Resettlement package.  They are very flexible with the dates of availability and will work with you to make sure you get all the right training that you'll need, in the right order, to be consistent with the nature of each course. They even include and organise accommodation while attending your courses.  I wasn't doing these courses looking for a possible second career, I was just wanting to be able to have the knowledge and skills to renovate my house, as I have found so often in the past that trying to get a tradesman to do a small job is impossible.
When you arrive at the centre, which is actually in the grounds of the Waddon Train Station, you'll see the two upstairs classrooms either side of the  entrance hall, one is Carpentry, the other is Plumbing.  Come down and around the side to the platform gate and enter the main building through the yard with the Building Bays under the awning and Roof Frame set to the side.  Step inside the door and there are bays for Plastering, Tiling and Kitchen Fitting.  The Main Office and Reception area are in the middle of these, it also doubles as the rest/dining room,
and whilst the centre does provide some hot snacks they don't mind you bringing your own food. 
There are various places nearby within walking distance, where you can also go to eat.  The toilets and changing rooms are within this main area too.  The Electric courses are run in other premises just around the corner.
I have nearly completed 10 courses at the centre but as yet none of the electrical courses. Nine of these came under my Resettlement package with the Navy and an Advanced Tiling course which I paid for myself.  I found all of the Course Instructors to be very proficient with their skills and knowledge, which shows with the amount that they have passed onto me in such a short time.  I can safely say that all the courses I've attended so far, have been extremely useful and the structure of which has given me more knowledge and 'hands on skills' than I ever expected, which will now allow me to be able to continue and do most of the work on my own project myself.  For somebody like me with no real background in this sort of work, the BTC has been essential in helping me to make my transition from Sailor to Civvy.
I would like to take this opportunity to thank everyone working at the BTC for the whole experience, as they have all been a part of my journey into Civvy Street in one way or another and it's one that I will have some fond memories of.  I really don't know what I want to do as a second career yet, however, I have enjoyed all of the courses so much, and feel that I have learnt a tremendous amount during them, who knows, I might just take up the role as an 'Odd Job Man – No Job Too Small' myself!!
Brian Higgins,  41,  Loafin Civvy,  from N. Ireland.  Retired after 24 years in the Royal Navy.
I'll let you know about Adv Plastering in Oct ASAP. Thanks again for everything,
Cheers Brian
Why not give Matt, Sally or Andy a call, who will be more than happy to assist, on 0208 649 9340
Or send an enquiry  by clicking here
To apply for a course by sending an on-line application form click here
To view our colour brochure click here
We are a totally independent company trading as Builder Training Centres Ltd
All our resettlement courses are held at our training centre in Surrey, Greater London.