Our 5 day (or weekend splitter) Foundation Plumbing Courses at the Builder Training Centre are very practical and 'hands-on' courses, and are ideal for beginners looking to learn plumbing for DIY or handyman skills, experienced people looking to extend their trade skills or perfect their plumbing skills, or those looking for a new career as a plumber. 
"I thoroughly enjoyed the course and thanks to the skills learned and time spent, I will now be undertaking a plumbing apprenticeship and get on the first rung of the ladder for a career I wish to further myself in"                                              
For more testimonials on our Plumbing Courses click here
For the next available training course dates click here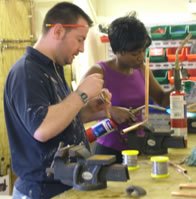 The Builder Training Centre (The BTC) offers high quality structured Plumbing Courses, which can be attended as a 5 day course during the week (Monday to Friday) or, for those that have commitments during the week, a weekend course (2 consecutive weekends).  Our instructors are qualified, highly experienced, knowledgeable and enthusiastic Tradespersons, so students can take advantage of all the tips of the trade, personal experiences and advice they offer.  This short course is intensive, but the atmosphere is relaxed and enjoyable which creates a good learning environment. If you have a particular project in mind, or some building plans you wish to gain advice on, our instructors will be more than happy to discuss these with you. 
You will be learning plumbing from day one and you will be amazed at what you can learn within a short period of time.  Please take time to view a selection of our testimonials from students that have attended the Plumbing Course by clicking here 
You will get dirty so you should bring working clothes. We have changing room facilities for men and women!  You will find our prices are competitive, and include the use of tools and materials for your plumbing course whilst you are here, but for health and safety reasons you are required to have steel toe capped footwear to wear throughout the course. These can be purchased from reception on your first morning for £20 if required.
Full instruction will be provided in the use of plumbing tools, and a wide selection of tools will be available for purchase from reception at any time during or after your course.
Our  Plumbing Course covers the basics of household plumbing from fitting a tap washer through to achieving a good understanding of the hot and cold water supply systems, and a central heating system via theory and practical hands-on experience. 
You will gain practical experience on how to use compression fittings, as well as the installation of plastic waste systems using push fit and compression connection methods. 
You will learn the correct use of alternative plumbing methods such as speed/push fit plumbing systems and associated connectors and pipe work. You will gain further practical experience in the planning and installation of water supplies and waste systems within our purpose built bathroom and kitchen environments. 
This plumbing course should give you the confidence, skills and knowledge to complete your own DIY projects or set you on the first rung of the ladder to a lucrative plumbing career.
Tasks will include:
Installation of pipe work to a variety of sanitary wares

Pipe forming/bending

Soldering of copper pipes and using fittings

Removal and re-fitting of toilet system components

Tap re-seating
Removal and re-fitting of radiators
In addition to the practical experience gained, you will also receive an explanation of:
Copper, brass and plastic plumbing fittings used for domestic installations

How copper, brass and plastic plumbing fittings work

Conventional and combination domestic heating systems

The hot and cold water system
Showers, pumps, etc
The installation of sanitary ware

Above ground drainage

General plumbing procedures
Installing washing machines, dishwashers and outside taps
Conventional taps
How a toilet system works
 Fact sheets will be supplied on our Plumbing Course, so there is no need for too many notes!
After completing the Plumbing Training Course you will receive a Builder Training Centre Certificate of Continuous Professional Development. 
| Day | Deposit | Total Price | Course Times |
| --- | --- | --- | --- |
| Mon-Fri | £150 | £475 | 9.00am - 4.00pm |
| Splitter (over two consecutive weekends) | £150 | £475 | 8.30am - 5.00pm |
                                                                                                                                                                                                                                      Full payment or a deposit of £150 is required to book a Foundation Plumbing Course.  Any remaining balance can then be paid at any time before the start of the course, including the first morning.
Add Plumbing to a multi course package
(Plastering, Tiling, Plumbing, Carpentry)
Total £1,740.00 (inc VAT). A saving of £100.00!
For More Discounts and Special Offers Click here
You are welcome to visit The Builder Training Centre at any time during opening hours (8.00 am until 5.30 pm) either during the week or at weekends to see our facilities first hand. No appointment is required and you will be made very welcome.  Why not come and meet our plumbing instructors and speak to our plumbing students and see for yourself what you can achieve from each course?
We are confident that you will like what you see and will want to learn basic plumbing with The Builder Training Centre.
Why not give Matt, Sally or Andy a call, who will be more than happy to assist, on 0208 649 9340
Or send an enquiry  by clicking here
To apply for a course by sending an on-line application form click here
To view our colour brochure click here
We are a totally independent company trading as Builder Training Centres Ltd
All our plumbing courses are held at our training centre in Surrey, Greater London